Posture of the Month
"Pranayama: Standing Deep Breathing"
Benefits: We open the series with this deep breathing exercise in order to prepare the body for it's ultimate healing capability. As we know, breathing calms, yet simultaneously invigorates the nervous system. Deep breathing, especially practicing this technique, can increase the amount of oxygen in our bodies by SIX TIMES the amount as a regular breath we take in, for example, while walking down the street.   SIX TIMES!
This becomes a major, mind-blowing event when we realize that the more oxygen circulating in our blood (which circulates inside our bodies) the healthier we are from the inside out. You breathe deep, you clean deep, you heal deep.
Technique:
Stand with your feet together side by side. Begin by pressing your feet equally into the floor to engage your leg muscles. Trace your legs muscles (while firming them to their bones) all the way up until, naturally, your lower abdominal wall engages. This engagement calls the diaphragm into a toned position, preparing it to lift high and low for a voluminous breath.
Interlace all 10 fingers and place the knuckle grip of the hands against the long, curved stretch of the throat. Throughout the breathing practice, keep the sealed grip of your knuckles right up against the throat (this helps to stimulate the glands of the thyroid and parathyroid, located along the neck…more on that later J).
Begin to inhale through the nose (using the throat to make a Darth Vader type sound) for a count of six and lift your elbows out to the sides until they stretch up to the sides of your head, allowing your forearms and back of the palms to naturally frame your face. Slow, long, stretchy breath.
After a six count inhale, begin to exhale for a count of six. Open your mouth and slowly drop your head back (letting the sound of 'haaaaaa' increase the force of this breath). Let your eyes lead the way, looking across the ceiling behind you until you can see the wall behind you. Your mouth is as wide as it is during a dentist's appointment. Bring your elbows, lifted high, to skim and trace the ceiling above you and in front of you until they touch in front of the chest. Palms touch, forearms squeeze, elbows together. Slow, long, stretchy breath.
Repeat 10 cycles of inhale/exhale. Each cycle of breath is 12 seconds in total, 6 seconds on the inhale, 6 seconds on the exhale.
The Goods: This standing deep breathing exercise is brilliant in form and effect. Our bodies are masterpieces and when we take the time to dissect the map of our bodies and how they work, we are given massive amounts of insight to begin the journey of self-mastery.
What can we learn from standing deep breathing? We will all have our own personal experience, but I don't think anyone can argue the truth that taking a deep breath in a moment of stress can greatly shift our energy and focus. When we breathe deep (and practice deep breathing), we strengthen the relationship between ourselves and our breath, so that we can call upon it in stressful times. We start to trust the  breath will be there as a tool, and we start to trust ourselves to seek out this incredible, ever-present gift; a gift that carries bio-chemical and energetic transformation.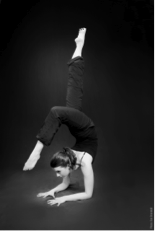 Hot Yoga 4 You's  "Posture of the Month" is written by senior yoga teacher, health counselor, certified Pilates instructor, and whole foods chef, Diana Bisso. Be sure to check our schedule and join Diana's class when she guest teaches at Hot Yoga 4 You RVC, or find and schedule an appointment with her company to discuss your health goals at The Cleansing Project.